Why a Standing Seam Metal Roof is Your Home's Best Protection?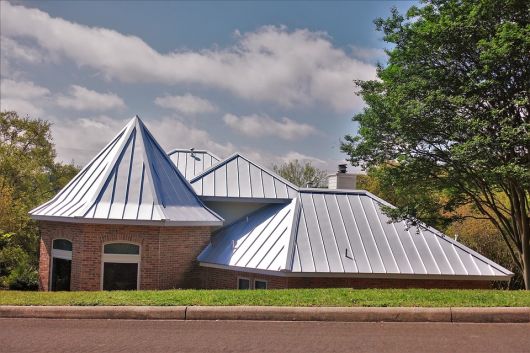 A standing seam metal roof can be the ideal solution for homeowners looking to protect their homes with the best roofing system available today.
Standing seam refers to a roofing system with vertical panels. The panels are made from metals such as aluminum, galvanized steel, and others. Each panel consists of two standing seams; each adjacent one joined to the next with crimping. The finished roofing panels consist of a clean and modern design.
Here are the reasons why standing seam metal roof can offer your home the best protection from the elements.
No Risk of Leaks
The remarkable thing about standing seam metal roof is that the panels feature no fasteners or screws that are exposed. The distinct design helps to minimize the chances of roof leaks after installation. The concealed fasteners are sturdy and offer the roof a clean and seamless look. With the continuous placement of sheets, there are fewer potential weak spots on the roof that can act as the entryway for moisture.
The seams are standing; so there is extremely less likelihood of moisture seeping through the edges. The panels are installed only vertically, which results in fewer seams on the roof. With fewer seams, it is again greater protection from any sort of leaks. With standing seam metal roof, you won't have to worry about elements such as snow, sleet, or rain creating any hassles for you inside the home. Due to the vertical seams, there is also less likelihood of ice dams forming on the roof.
The seams are joined in a way that makes them rise over the deck of the roof. So, there are no chances of seam leakages.
Durable and Sturdy
Standing seam can last for 30-40 years easily. The panels and seams are sturdy enough to withstand different elements over a long period of time. With proper installation, you can extend the lifespan of standing seams even more.
The strong metal sheets do not split, chip, or crack. Whether you opt for steel or aluminum panels, you can rest assured that you won't experience any problem with the durability factor of standing seam metal roofs in your home.
You can opt for thicker panels to strengthen the roof even more. It is easy to customize the standing seam roofing system for different sizes and styles of homes. If the quality of metal sheets is premium and the installation of the roofing system impeccable then standing seam roofs can last as long as the house itself without requiring any heavy-duty maintenance.
With the absence of screws, there is no risk of the fasteners rusting or requiring periodic maintenance. Even standing seam roofing panels don't rust or fade away in the sun. So there is no risk of the roof becoming weaker with time. With the right metal panel gauge, you can even get the roof that can withstand hailstorms without incurring any significant damage.
Security and Protection
Standing seam, as it is, a sturdy roofing system. But you can also use a layer of steel mesh underneath to make your roof nearly impossible to cut through with tools. Even if you don't use the mesh, metal panels on the roof can offer more protection to buildings than other materials such as asphalt.
With the standing seam roofing system, you can ensure that your home is protected in every way. You won't need to worry about the roof cracking in the middle of the night or ever; fearing for your family's well-being.
To Conclude
To benefit fully from standing seam metal roofing system, it is important to get its installation right. Contact a reputed contractor of roofing systems in your area to customize the seams as per your house's dimensions. Standing seams are available in a variety of colors. So, you won't need to compromise style over sturdiness when you choose this roofing system for your home. With strong metal panels and continuous design, standing seam metal roofs accord any building a stylish and distinct look. Due to its many benefits, the use of a standing beam metal roof can also add value to your home.