Add Sophistication to Your Home with Rustic TV Console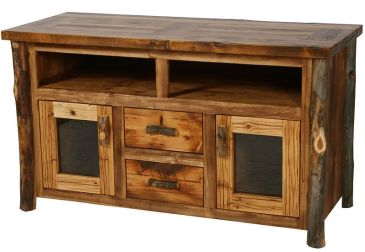 The television is an indispensable item in the modern home. Not only does it provide entertainment, but it also keeps you posted on the world scenario apart from being educational to a great extent. A television is a large enough item to affect the décor of your living room or entertainment room in either a positive or negative manner. This is the reason that it is not a good idea to let a TV stand by itself in any interior space. For improving the look of the interior space you should always add a TV console.
Needless to say your TV console needs to complement the rest of the décor of the room and the home. However, with a little innovation and creativity you can add quite a lot of sophistication to any style of décor with a rustic TV console or media console. There are thousands of options to choose from when you are planning to buy a rustic TV console. Let us look at some tips to be considered before you make the payment for one.
Size of the Rustic TV Console
Two factors play an important role in deciding the size of your TV console – the size of your room and your storage requirements. If you are a movie buff with a large collection then you need a home entertainment center with media storage towers and TV console. If on the other hand, you need the console only to house your television set, then a cart will also suffice. However, no matter what the space constraints, you need to choose a TV console that is slightly bigger than your television set. This is for safety reasons because if the TV is larger than the console it might easily get knocked off. Also make sure that the console does not block pathways or overwhelm the room.
Choice of Materials
While picking the material you should keep in mind the exact rustic style of the room and the kind of durability you expect from your console. Wood is definitely the material of choice if you are looking for a rustic look and durability as well. There are many finishes available in wood like walnut, ash, oak and cherry. Although, veneered plywood is a popular choice as it is more affordable it will not lend the same charm and durability and pure wood. The choice of material also depends on your family requirements because too much of glass and sharp edges are not advisable in families with children and elderly people.
Best Positioning
The general layout of the room and the placement of other pieces of furniture is the deciding factor in the place that your TV console will occupy. Ideally, a sofa or any other seating arrangement should face the TV console so that you can relax while watching TV. During the process of figuring out the space, you should measure all the furniture and draw a layout to decide where you will place the console. Avoid placing your TV console in a space that has bad glare and for this you can try different parts of the room for the best possible option.
Buying Rustic TV console
Of course, there is a large variety of TV consoles in rustic furniture as well as other trendy styles available in the stores in your market place. However, the physical stores have a constraint of space and hence cannot store more than a number of pieces. This is not a problem with online stores as they can display as many different pieces that they want. As a result, you get more choice options in online stores. What's more, you can browse several different online furniture stores at the click of a mouse and your options increase considerably. If you were to attempt the same thing with physical stores you would have to trudge from one store to the next looking for the right rustic TV console.
Another benefit of buying a TV console or any other item online is that almost all online stores regularly offer great deals on their products. This is because they don't have to spend money on overhead costs and the maintenance of the store and they in turn pass on these savings to the customer. Hence, if you are planning on buying a rustic TV console, then the internet is the best place to shop.